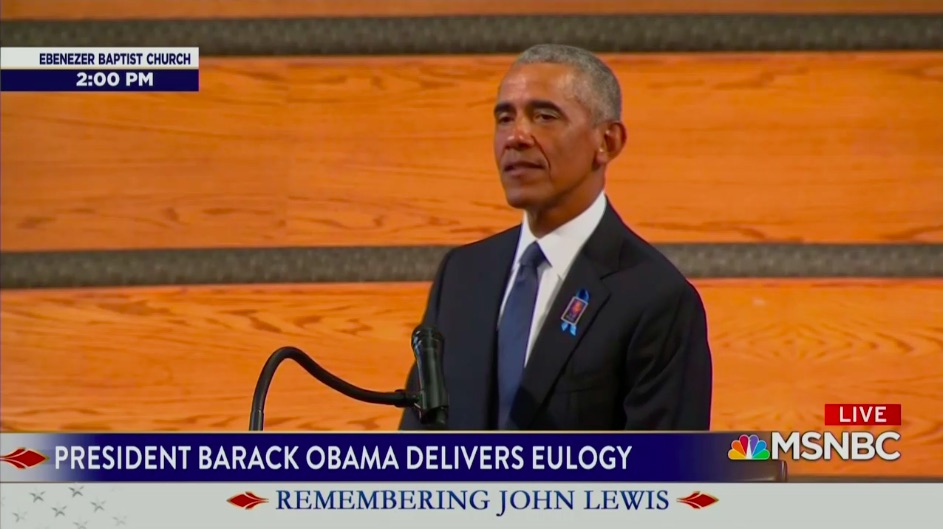 MSNBC and CNN split total day ratings wins in overall and A25 – 54 viewers, respectively, on Thursday with audiences tuning in to watch the coverage of civil rights icon Rep. John Lewis' funeral. Fox News' numbers were down 75 percent in the demo during the afternoon hours as it broadcast the funeral coverage.
According to Nielsen Media Research, CNN scored the best ratings in cable news from 6:00 a.m. to 2:00 a.m., with 333,000 viewers in the demo. Fox News pulled into second with 301,000 A25 – 54 viewers. And MSNBC trailed behind with 252,000 viewers in the demo.
CNN's best hour of programming for the entire day in the demo came in the 2:00 p.m. hour, during former President Barack Obama's eulogy, with 479,000 viewers watching in the demo. That hour also came in fourth overall in cable news on Thursday in the demo, trailing only Fox News' three primetime programs. Fox News' ratings noticeably dropped during its coverage of the funeral, with its numbers falling to 81,000 A25 – 54 viewers during the 1:00 p.m. hour and 95,000 at 2:00 p.m. as Obama gave his remarks.
In overall audience, MSNBC earned a rare, total day victory on Thursday with 1.83 million viewers, edging out Fox News' 1.81 million viewers, and easily outpacing CNN's 1.34 million. MSNBC's best daytime hours came between 3:00 p.m. and 5:00 p.m. covering the end of the Lewis funeral coverage and the reaction on Deadline: White House. In those two hours, MSNBC pulled in 2.21 million and 2.34 million total viewers, respectively. Fox News, again, dropped to lows of 595,000 and 540,000 overall viewers during its funeral coverage.
During the increasingly competitive 7:00 p.m time-slot, MSNBC's new entrant, The ReidOut won overall viewers on Thursday with 2.25 million and squeaking by Fox News for second place in the demo with 356,000 viewers. Fox's The Story with Martha MacCallum came in third in the demo with 348,000 viewers and second overall, falling just short of MSNBC with 2.13 million viewers. CNN handily took first in A25 – 54 viewers with 434,000 but was third with 1.56 million overall.
However, Fox News continued its ratings dominance in primetime on Thursday, averaging 592,000 viewers in the demo, easily surpassing CNN's 400,000 and MSNBC's 371,000. Tucker Carlson Tonight topped all of cable news with 656,000 A25 – 54 viewers, while Hannity barely beat out its 10:00 p.m. successor, The Ingraham Angle, 567,000 to 553,000. Fox also won overall viewers in Thursday primetime, posting 3.63 million viewers to MSNBC's 2.60 million and CNN's 1.66 million. Among its primetime stable, Fox's Tucker Carlson, Hannity, and Ingraham placed first, second, and third in total cable news viewers with 4.03 million, 3.78 million, and 3.08 million, respectively.
Have a tip we should know? [email protected]